March 12 – April 22, 2016
This spring we are offering the 6 week Five Elements course online on the Ligmincha Learning site. This is a great way to gain a deep understanding and experience of how the Five Elements manifest within ourselves and our world. In addition to numerous teaching videos and audios by Tenzin Wangyal Rinpoche, we also use the book, Healing with Form, Energy and Light.
To learn all the details about the online course see the Ligmincha Learning site. People are welcome to join after the course has started.
I recently taught a five day, five elements retreat at Chamma Ling in Wilga Poland. It was a wonderful place to share these sacred teachings, and we spent time practicing outdoors with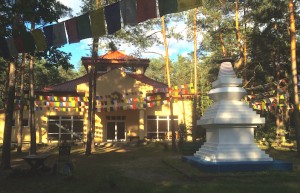 the elements each day. It was the first time for me to visit our center in Poland, and everyone made me feel very welcome, and I will be teaching there again again in May, 2016.