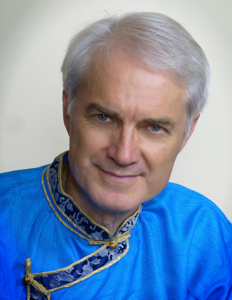 John began his personal and spiritual explorations as a teen studying the classics from Greek literature to the Bhagavad Gita to the Tao Te Ching, and has explored and practiced a variety of methods to expand and enhance awareness from pranayama to dzogchen. During his studies and explorations he has traveled on pilgrimages around the world and spent lengthy periods of time in retreat in Triten Norbutse and Menri monasteries in Nepal and India. Over the past 30 years John has developed close relationships with and received private instruction from His Holiness Lungtog Tenpai Nyima and Yongdzin Tenzin Namdak, the two most senior teachers of the Bön lineage, and Tenzin Wangyal Rinpoche, the most senior Bön master in the West. He has been leading meditation courses at centers across the United States and Europe since 2001, including Beginners' Mind, Tibetan Dream Yoga, the Nine Ways of Bön, Integrating Meditation with Daily Life, Healing with the 5 Elements, Healing the Earth – Healing Yourself, Awakening the Sacred Body, Tibetan Sound Healing, Awakening the Luminous Mind, Heartdrops of Dharmakaya, Red Garuda and Connecting to Your Creative Source. He was co-leader for the 3 Doors Academy of Europe, an intensive two and a half year program for gaining deep experience in the Tibetan practices of body, speech and mind. Over the past 25 years he has led more than 100 retreats in 11 countries.
An important step in his spiritual awakening occurred when he died on his 55th birthday, from eating his own birthday cake. After returning to life he found himself transformed in all dimensions of his life, fearless in the embrace of life's challenges. You can hear a description of that in this video:
A few years later he was struck by lightening, and rather than being killed he was energized and blessed by the power and energy flowing from the sky.
John's first love was photography and film making, and he worked commercially in that field until he grew weary of supporting consumerism through his art. What drew him to the visual arts was the clear, open focus and awareness of the artist as his vision arises into manifestation. If you like you can see some of his images on Instagram. After some time, he shifted his focus to creating educational media and designs, and after more graduate training, began to work in higher education.
John was a professor at the University of Virginia school of medicine for 23 years, regularly taught medical student classes and faculty development workshops, and served as assistant dean for a short while. His interests include effective teaching methods, curriculum design, leadership development, educational media, and online learning. He received the Dean's Teaching Award, was a member of the Academy of Distinguished Educators, and regularly presented the results of his team's educational research in professional journals and at conferences throughout the United States and Europe. John has an active consulting practice within higher education, and with organizations developing eLearning.
John began coaching in 2010 and has worked with hundreds of people from around the world to support them to discover greater meaning and balance in their lives. Most of his clients are on a spiritual journey and seek to integrate their spiritual path with work and family. Many times John offers instruction in forms of meditation and ritual as part of the coaching process.
John helped establish Ligmincha Institute beginning in 1992, organizing most retreats, editing practice materials, and serving on its board of directors until 1997. At the request of Tenzin Wangyal Rinpoche in 2001, he helped establish the Chamma Ling Retreat Center of Colorado, a place of solitary retreat in the remote Sangre de Cristo mountains of Colorado, and served as a director for 17 years and continues to serve on the board. He helped establish the Three Doors program, and was one of the six three doors academy teachers. John was also active in the planning and initial setup of Lishu Institute, near Dheradun, India, an in-depth residential meditation training program for senior practitioners. He also created and teaches within the Ligmincha Learning site, which offers online courses in meditation.
John lives with his son near Crozet, Virginia, where he enjoys gardening, being a father, and spending time in solitude in the mountains.